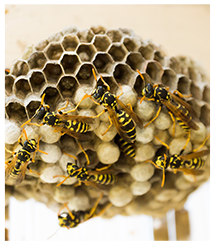 wasp control - peterborough
Never attempt to remove a mature wasps nest. Wasps inside the nest will feel threatened and become aggressive. This will cause them to attack and can result in many painful stings.
To eliminate wasps it is not necessary to remove the nest itself, as a quick and effective treatment will simply destroy the colony.
We offer a professional wasps nest treatment. Fully guaranteed success for an unbeatable low price.
request a service quote